Revolut FREE Axelar Crypto. Make simple course with simple quiz about cryptocurrency and grab for FREE Axelar cryptocurrency from Revolut.
📽 Timeline
00:00 Intro
00:16 How to find Revolut quiz in Revolut app?
00:22 How to go thru Revolut Quiz to get free Axelar crypto? Answers for quiz Revolut.
00:34 Axelar Quiz Answers: lesson 1
01:08 Axelar Quiz Answers: lesson 2
01:48 Axelar Quiz Answers: lesson 3
02:46 How to find Revolut videos how to answers for all Revolut Quiz?
02:58 Q&A
03:01 Outro
Open Revolut Account
From Zero To Millionaire readers can get for free 200 PLN on Revolut using the promo code 'krzyszb5x!APR2-23-AR'! All you have to do is:
Sign up with referral link (button below)
Add money to your account
Order a physical card
Make 3 purchase od 15 PLN minimum
Promotion is limited by time (is on/off by Revolut). You can check it always on Revolut website.
Axelar Quiz Correct Answers
The Axelar test consists of 3 lessons, after which you will receive approximately 1,2 PLN. Prize value may vary by country.
Lesson 1 – Meet Axelar
Question 1: Which of the following can describe Axelar?
Question 2: What is the backbone of Axelar's security approach?
Question 3: Which of the following is true?

Answer: With Axelar, applications can seamlessly integrate with any blockchain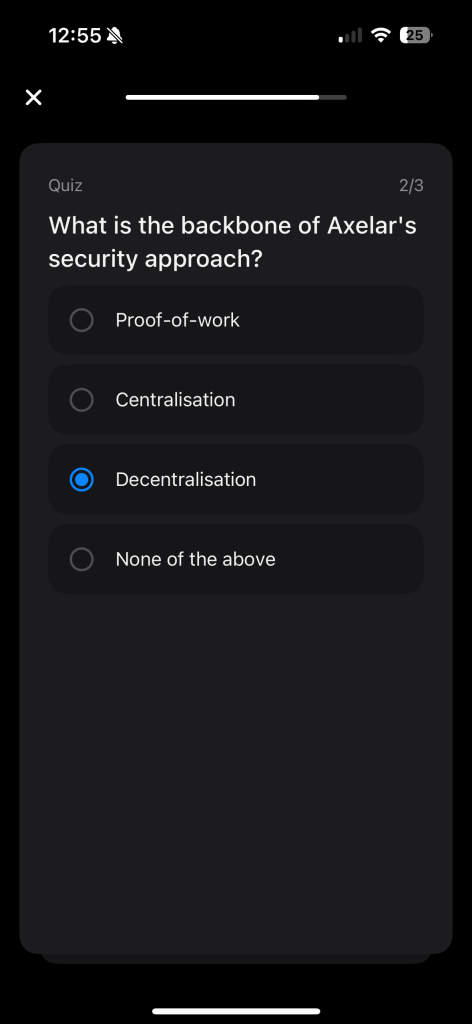 Lesson 2 – The AXL Token
Question 1: How does Axelar recognise validators and token holders who faithfully secure the network?

Answer: By attributing rewards and a share of fees for transactions on the network

Question 2: Regarding Axelar's token economics, which of the following is true?

Answer: The best structure for the network will be determined by Axelar tokenholders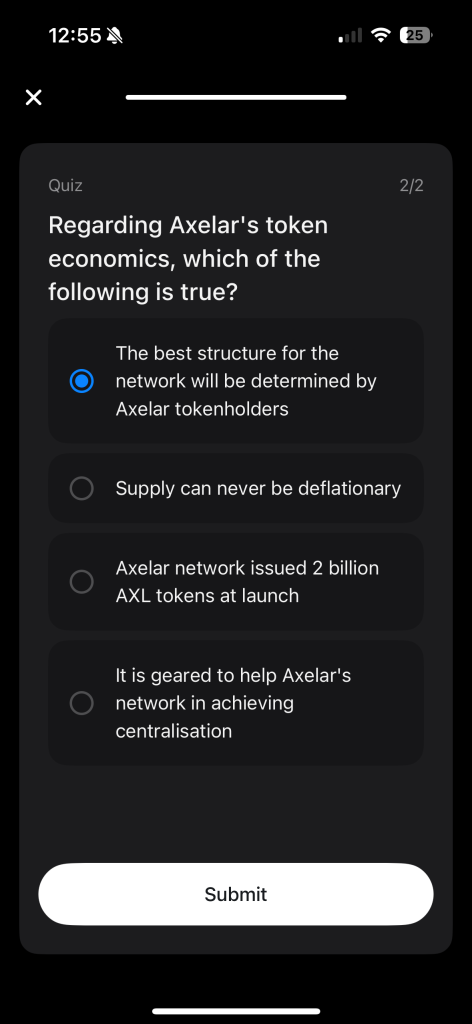 Lesson 3 – Axelar's cross-chain future
Question 1: How does Axelar improve on the security approach of first-generation bridges?

Answer: Using proof-of-stake validation

Question 2: Which of the following is true about Axelar General Message Passing?

Answer: It allows applications to send and receive logic across different chains, promoting cross-chain integration

Question 2: What differentiates Web3 development from traditional app development?

Answer: Web3 allows developers to integrate applications across blockchains, making a potential super app possible